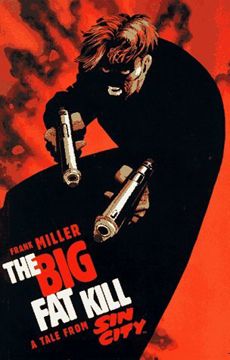 Sin City "The Big Fat Kill"
(1994-95)
Originally published as Sin City: The Big Fat Kill 1-5. Story and art: Frank Miller, Cover colours: Lynn Varley. Published by Dark Horse Comics, 1994-1995.
Even though I was lukewarm to the original Sin City series (AKA "The Hard Goodbye"), I went ahead and picked up The Big Fat Kill, as the movie trailer has me that enraptured and intrigued. Apparently, The Big Fat Kill is the third installment in the Sin City annals, a direct sequel to the second installment A Dame To Kill For, which I've never read. I picked it up because it is one of three stories that will make up the movie (That Yellow Bastard being the third), and since A Dame wasn't one of them, I skipped it.
The story stands on its own, and I don't think I missed anything more than back story by not knowing the previous story. It's a pretty straight forward story anyway, so I can't imagine anyone not being able to follow it because they don't know the back story of Dwight, Gail, or Shellie. Like the original, this is a gritty, ultra-violent tale of revenge, murder, sex, love, and redemption. Also like the original, it features the outstanding black and white art of Frank Miller, creating a mood with a vigorous use of negative space. But, it's a drop off in quality from the first, especially in the dialogue department, particularly when Shellie is arguing with a drunk Jack Rafferty through the door in her apartment. No one gets out that kind of confessional dialogue while trying to get rid of the drunk in the hallway.
Since reading these books for me is an attempt to get reading for the forthcoming film, I again read it with the cast list open on IMDb. This tale begins with Shellie (Brittany Murphy) arguing with Jack (Benicio del Toro), while her new boyfriend Dwight (Clive Owen) is in her apartment. Dwight sends Jack and his buddies packing, but decides to follow them so they don't cause more trouble. He follows them to Old Town, running into Gail (Rosario Dawson), Becky (Alexis Bledel, all you Gilmore Girls fans will get to see Rory play a hooker), and the deadly little Miho (Devon Aoki). Eventually, we'll run into Manute (Michael Clarke Duncan) and Murphy (Arie Verveen) as well. When I was done reading the book (a brisk, hour and a half read), I watched the trailer again and saw many pages translated word for word, scene for scene.
As I said in my last review, the Sin City books aren't really for me, but they're a decent read. This one is a drop in quality from the first, although others will really get into the Kill Bill style action (or, what I know of Kill Bill, since I've yet to see it). And hey, the trade is a hardcover! So that's a classy touch. I give it a 3 out of 5. I'll probably end up grabbing That Yellow Bastard next, to read up on Bruce Willis and Jessica Alba's roles, and maybe find out what I missed in A Dame To Kill For. And I'm still psyched for the movie.