Like last year, this list will be for shows whose season ended in 2006. It's too awkward to try and judge the second half of one season from January-May, then the first half of the next season from September-December. Seasons should be judged by themselves, as a whole. Thus, this list will include seasons that began in 2005, but ended in 2006, or shows that had their entire season within 2006. Seasons that began in 2006 but have yet to finish do not qualify for this list.

Shows I don't watch, and thus will not make this list include all procedurals and cop shows, Battlestar Galactica, Deadwood, The Wire, 24 (which I do watch, but am behind on the DVDs), and Gilmore Girls. Also, I didn't catch all of the first season of How I Met Your Mother, so I'm leaving it off the list. Consider that an honourable mention.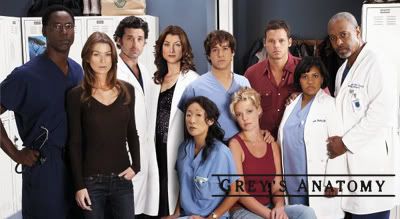 10. Grey's Anatomy (Season Two): This show really improved from its first season, dialing down the focus on Meredith, becoming a true ensemble. Kate Walsh was a brilliant edition to the cast, taking a character meant to be an obstacle, and making her an invaluable edition (even if her specialty is frustratingly broad). The show picked up a huge amount of steam post-Super Bowl, and never looked back.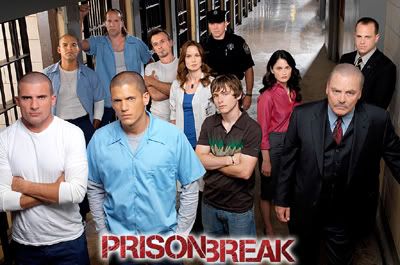 9. Prison Break (Season One): This season was a tale of two halves: pre-hiatus, it was as exciting and intense as anything on TV. Post-hiatus, it stalled and stretched, failing to deliver on the promise of the early season, knocking it down my list. Still, it was pretty fresh and exciting, and paid off at the end.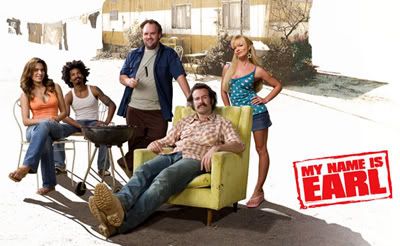 8. My Name Is Earl (Season One): Just when you thought no one could come up with a fresh idea for a comedy anymore, along comes this show, which is as original as it is funny. The cast are all perfect in their roles, and the concept is perfect in that it provides a structure for episodes, but is open-ended enough that the show can continue for as long as the principles are interested (for every thing Earl crosses off his list, he usually ends up adding another thing to it).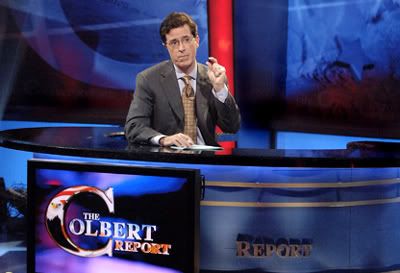 7. The Colbert Report (Season Two): When the show first debuted, I thought it was funny, but wondered if the shtick would get old, trying to fill four, 22-minute episodes a week. Turns out that I needn't have worried. Colbert and his team of writers consistently turn out some of the most brilliant satire in the history of ever, while using viral campaigns and the new media to help the show ascend to the forefront of the cultural zeitgeist. I wonder if this post will end up on his "Who's Honouring Me Now?" segment?



6. Survivor: Cook Islands (Season Thirteen): It's pretty impressive how this show has been around for 13 seasons, yet still manages to stay fresh and improve upon itself. Obviously, changing out the cast every season helps, but other reality shows do the same, but have faded away (like The Bachelor) or have delivered diminished returns (like The Amazing Race, despite what Emmy voters always say). Sure, the racial divide to start the season smacked too much of sensationalism, but it led to a different kind of player, and shockingly, the friendliest, most rational cast yet. Weird, they go for controversy and end up with civility.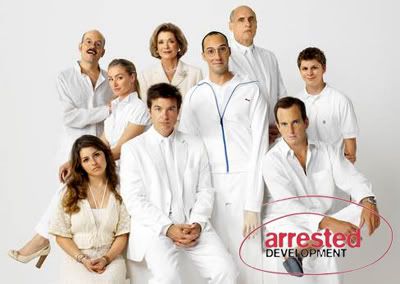 5. Arrested Development (Season Three): Yep, AD finished its run this year. It may not have seemed like it, as their final episodes were buried in the FOX schedule (who graciously allowed them to finish their season despite dismal ratings), but it wasn't that long ago that the Bluths filled our screens. If I sound like I'm writing a eulogy, it's just cause I'm sad that this is the last time I'll get to honour one of the funniest shows ever (okay, it's also the first time, as I was always behind on DVDs).




4. Big Love (Season One): Best new show of 2006 and, surprisingly, the only HBO show on this list. Well, I guess I only watched two HBO seasons in 2006 (can't wait for Rome in January), and Entourage had a bit of an off season. Watching Big Love cemented the idea for me that I should be watching more HBO (even if I don't actually have HBO). If they can turn a show about a Mormon polygamist in Salt Lake City this entertaining, endearing, and enthralling, then there's isn't much that network can't do. Probably the best show about family on TV.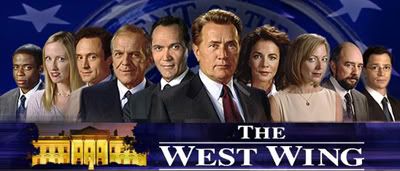 3. The West Wing (Season Seven): While I am saddened by the loss of Arrested Development, I'm satisfied with the end of The West Wing. It was time, and they went out on a high note, powered by the excitement of Matt Santos' presidential bid. For a couple seasons, the show struggled under the legacy of Aaron Sorkin, unable to compete with the poetry he crafted for the first four seasons. In the final season, they no longer had to compete with old Sorkin ideas, as they were able to concentrate on finding a new president with real drama as to who would win (whereas with Bartlett's re-election bid, there was no doubt who would win, as the show was still popular). Much of the main cast weren't signed on for the whole season, but they delivered the goods when they were called upon.



2. Veronica Mars (Season Two): Definitely not a perfect season, with a noticeable drop in direction and quality from the first season, the second season of Veronica Mars was still better than any other drama on TV. Here's hoping season three doesn't get the mourning write-up next year that AD got this year.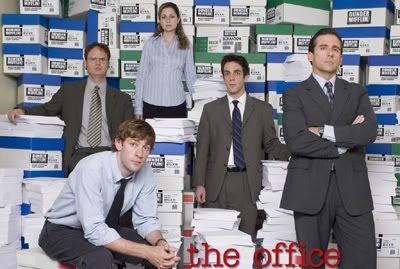 1. The Office (Season Two): Perfect balance between episodic comedy and addictive character development with characters who are both unbelievably quirky and realistically normal. It was a great year for comedy on TV last year, with four shows making this list (up from two last year), with another that may have made it had I seen the whole season (How I Met Your Mother), and one that just missed the cut (The Daily Show). Of course, with all this great comedy on TV, the number one sitcom is still One and a Half Men. Sad.

Related:
Arrested Development Season Three
TV Talk: Grey's Anatomy
Office, The Season Two
TV Talk: Office, The
TV Talk: Prison Break
TV Talk: Survivor: Cook Islands
TV Talk: Veronica Mars